scoop beppe grillo
Casa Vittoria
Discussione (Gender e dintorni)

18 h
Medico? Pensavamo che i medici curassero...
In origine condiviso da Emilio Facchin - 1 commento
4 +1
4
8 commenti
8
una condivisione
1
betta stranita: +
Santi B.
Stesso elevato concetto di tutta la sinistra americana colla pantegana Clinton a fare da garante x l" aborto alla nascita .....
Sergio MaGi
Discussione (Non solo Gender)

1 g
Interessante articolo da leggere e da far leggere... aggiungerei anche quando i diritti e i capricci dell'uomo soppiantano l'ordine naturale delle cose.

Quando i "Diritti dell'Uomo" Soppiantano i "Diritti di Dio" [3] - Blondet & Friends
maurizioblondet.it
6 +1
6
nessun commento
una condivisione
1
Egidio Dellacroce
Religione e GENDER

1 g
In origine condiviso da Egidio Dellacroce
Lo scherzo del "cornuto" al gay pride reggiano E' la vendetta per la consacrazione della Diocesi


lanuovabq.it
6 +1
6
un commento
1
nessuna condivisione
52b17: questo dovrebbe essere chiesto da tutti i vescovi alle parrocchie.
Egidio Dellacroce
Discussione (Gender e dintorni)

1 g

Caro Papa, dimentichi che la Madonna è la "postina" di Dio da duemila anni, anzi dalle origini! di Luigi Copertino - Blondet & Friends
maurizioblondet.it
5 +1
5
nessun commento
nessuna condivisione
Egidio Dellacroce
Discussione (Non solo Gender)

1 g
In origine condiviso da Alessandra Giambitto
VOTATELI. È VERO, SONO NOSTALGICI , PERÒ SONO PER L'ITALIA E GLI ITALIANI (SENZA RAZZISMO). SERVIRÀ A RIEQUILIBRARE LE COSE.
Amministrative, Casapound presenta 13 candidati sindaci in tutta Italia - Secolo d'Italia


secoloditalia.it
4 +1
4
nessun commento
nessuna condivisione
Armando Pupella
Discussione (Non solo Gender)

2 g
In origine condiviso da Armando Pupella - 4 commenti
SONO STUFO DELLE LACRIME COCCODRILLESCHE SUI MIGRANTI ANNEGATI, SPENNATI E MALMENATI DAGLI ESOSI SCAFISTI !
Se il nostro Governo e l ' Unione Europea sono in buona fede vadano all 'Assemblea Generale dell ' ONU per promuovere un piano internazionale al fine di aiutare i migranti a svilupparsi economicamente e socialmente nelle loro Patrie. Visto che le ONG hanno tanti soldi per armare navi, sarebbero credibili se collaborassero con gli Stati Africani ed Europei per aiutare i migranti nei loro Paesi evitando loro di attraversare il deserto del Sahara e la Libia dove regna il caos.
Accoglienza e LAVORO solo per profughi che fuggono da guerre e persecuzioni politiche e religiose. Per diversi motivi la massiccia immigrazione non quadra nemmeno matematicamente. Sembra più invasione che migrazione. È un pericoloso kasino ben organizzato che non risolve i problemi dei migranti ed INKASINA Italia ed Europa.
Si piange giustamente per i migranti annegati e malmenati, ma non si piange ne' si parla delle migliaia di disoccupati e imprenditori che da parecchi anni si suicidano, specialmente per la globalizzazione subita invece di affrontarla con soluzioni decenti, CHE ESISTONO, senza rompere le tasche agli italiani. Imporre pesanti dazi doganali alle importazioni non è buon rimedio perché gli Stati ricambierebbero la " cortesia " alle nostre esportazioni di sarebbe peggio.
Quel che dice la seconda foto non è genocidio genocidio, ma tragedia alla quale si deve e si può porre fine. È possibile il risorgimento economico-occupazionale-sociale-morale-demografico.
Livio Buzzi: La pratica dello struzzismo da parte di certi personaggi è a dir poco nauseante !
Egidio Dellacroce
Religione e GENDER

1 g
E Roma chiude le chiese alle veglie anti-omofobia


lanuovabq.it
2 +1
2
nessun commento
nessuna condivisione
Jos 94
Discussione (Gender e dintorni)

1 g
Ah, le perle di Twitter
un +1
1
nessun commento
una condivisione
1
Marco Cultrera
Discussione (Non solo Gender)

2 g
!CONSIGLIO LETTERARIO!
Il teologo del comunismo (Engels servì solo come aggancio editoriale in sostanza) si esprime sugli ebrei, e sul loro peso nella società ottocentesca.
Limpidi risvolti di come il mondo si sarebbe confatto alle loro sordide mire sono già osservabili in questo pamphlet.
A World Without Jews
Karl Marx
un +1
1
nessun commento
nessuna condivisione
Egidio Dellacroce
Religione e GENDER

1 g
In origine condiviso da Egidio Dellacroce - 1 commento
3 giugno Processione a Reggio Emilia.
Partecipiamo
Reggio Emilia: 3 Giugno la processione in riparazione al Gay Pride si farà.


blog.messainlatino.it
2 +1
2
nessun commento
nessuna condivisione
Madama Lucrezia
Proprietario
NaziGaysmo


Giornata mondiale contro l'omofobia. Ue: 'Stati obbligati proteggere Lgbti' - Cronaca


ansa.it
6 +1
6
un commento
1
una condivisione
1
Andy G: Che squallore !!!!
Sergio DIM
Proprietario
Discussione (Gender e dintorni)

1 g
Personalmente penso che la tolleranza sia cosa giusta, perché le persone devono essere libere di potere vivere la propria omosessualità. Ciò che invece non è da tollerare è la campagna mediatica pro-omosessualità rivolta in primis ai bambini, e il volere fare credere che modello di vita etero e gay siano sullo stesso piano.
«L'omosessualità non è normale. Tollerarla è il declino dell'Occidente». Parola di un'atea lesbica


iltimone.org
10 +1
10
5 commenti
5
una condivisione
1
lucia pulichino: +
Sergio MaGi
il guaio è , caro Sergio, che se queste affermazioni le fa una pensatrice di sinistra, atea e lesbica, nessuno fiata, ma se le facciamo noi che non siamo pensatori, non siamo di sinistra e nemmeno atei e omosex, subito a gridarci che siamo bigotti, retrogradi, medievali, nazisti e persino stupidi. Se questa non è disonestà intellettuale. 
Madama Lucrezia
Proprietario
Diciamolo con ironia

2 g
scusate ma ogni argomento merita il linguaggio che gli si attaglia...
OHHH io se fossi sti tre riderei poco, il primo con le corna (tralascio tutto il significato del cervo nella mitologia e altro che sto cazzarando oggi non sto serioseggiando) è un masochista perchè se oltre gay pure cornuto allora vuol dire che ci godi a farti del male, gli altri due vorrei sapè se si sono resi conto che ce l'hanno ridicolo, scusate eh ma a me nun me pare de vedè la parte anatomica sporgente degna de nota..un cosetto messo li che sembra più grande solo perche il cappuccio colorato che ci hanno messo gli fa da wonder bra per pisello, e cosi no eh non vale è pubblicità ingannevole😂
e a quello al centro con le ali, sono certa che se con perfidia gli tiri via la catena del cesso che tiene unite ali e pisello gli arriva a terra...oddio che schifo roba da farti diventare frigida ... e preferire le sante orazioni del chiostro quantomeno ogni tanto un padre confessore infoiato come nelle migliori novelle scollacciate capita ...😜😂
In origine condiviso da Francesco Bruno Bruno - 1 commento
Savio Buttau: Spero tanto che i vostri scritti resteranno nei cuori nel mio ci sono
tutti.Buonanotte
a tutti.
A special prayer appeal for Pres. Trump's upcoming tour.
View this email in your browser
A CALL TO PRAYER FOR PRESIDENT TRUMP
The upcoming visit of US President Donald Trump to Israel has already surpassed for intrigue and drama the visit of any other American president, and we are still days away from him even landing. The itinerary for his first official trip to the region is different from what many expected, and no doubt more surprises are in store. But here is what we know so far.
President Trump's historic tour will feature three highly-symbolic stops in Riyadh, Jerusalem and Rome to deliver a message of peace and religious tolerance in key places for Islam, Judaism and Christianity. He has promised an "inspiring" speech on Islam before fifty top Muslim leaders in Saudi Arabia, and his call on Pope Francis at the Vatican should go well for both sides, but Trump's agenda during his brief stint in Jerusalem still remains very murky and full of controversy.
With Israelis preparing to celebrate fifty years of a reunited Jerusalem next week, many Christians were hoping he would show up at that very moment to announce the moving of the US Embassy from Tel Aviv to Jerusalem. But latest reports indicate he will only pay a "private" visit to the Old City and Western Wall without the accompaniment of any Israeli officials – a gesture which would disappoint his Israeli hosts and their many Christian friends worldwide. In fact, that would be the worst possible timing to remind everyone once again of the antiquated and thoroughly confusing stand which many nations take towards Israel's capital city. In my view, it also would be an especially huge letdown for all those American Evangelicals who voted him into office, based in large part on his campaign promise to finally recognize Jerusalem as Israel's capital.
Recent reports also indicate that President Trump aims to use this tour as a springboard for relaunching the Israeli-Palestinian peace process, believing that he has the unique abilities as a successful businessman to broker an historic deal that other presidents have failed to achieve. Yet there is little to indicate at present that the region is ripe for such an agreement, which means Trump may be falling victim to the same seduction which tripped up his predecessors in office.
The primary lesson of these past failed efforts is that we will know the Palestinians are finally ready to make peace with Israel when they stop their anti-Israel, anti-Semitic incitement and start teaching their children to live in peace with their Jewish neighbors. Dennis Ross, who coordinated the Oslo peace process under former president Bill Clinton, has admitted their biggest mistake was ignoring the Palestinian demonization of Israel, and that peace will only come when this education to hate ceases. During his recent visit to the White House, Palestinian leader Mahmoud Abbas told Trump that they are indeed teaching peace to their children, but we all know that is a complete lie!
Should President Trump start pressuring Israel to divide the land promised to them by God, the prophet Joel warns that it will only end in disaster. On the other hand, if he truly stands with Israel and her beloved city of Jerusalem as he promised while running for office, there will surely be great blessing on his presidency and nation. May we all be united in faith and prayer for the latter to prevail, in the hope that Donald Trump will truly become the 'Cyrus' which many Christians envisioned him to be.
- Dr. Jürgen Bühler, ICEJ President

Share

Tweet

Forward
Commit to Pray
Christians around the globe are praying according to Isaiah 62:6-7. Take the pledge and receive monthly prayer points from Jerusalem. Join the movement! Become an Isaiah 62 prayer partner today.
Join now






Copyright © 2017 ICEJ, All rights reserved.
You are receiving this email because you opted in via our website.
Our mailing address is:
ICEJ
P.O. Box 1192
Jerusalem 91000
Israel
Add us to your address book
Want to change how you receive these emails?
You can
update your preferences
or
unsubscribe from this list
Sweden puts Israel on Twitter blacklist, then apologizes
WATCH: Trump spokesman Spicer won't answer if Western...
US Ambassador to Israel: Trump will not demand...
WATCH: Former Mossad chief says Israel may 'think twice'...
Senior advisers to Trump: Don't move embassy to Jerusalem
WATCH: Israel develops kit to grow vegetables at home
Trump's fact-sharing with Russia about ISIS risks life of...
Ambassador Haley: Western Wall is part of Israel
Top Trump adviser won't say if Western Wall is part of Israel
Suspicion: Massive cyber attack caused by North Korea
Arson suspected in fire that damaged historic NY synagogue
French president's party boots candidate over anti-Semitic...
Trump administration facing 'Watergate size and scale' crisis
WATCH: Israel was source of facts Trump shared with Russia
Low-ranking US diplomat from Obama days denied...
Se non leggi correttamente questo messaggio, clicca qui
Giovedi, 18 Maggio 2017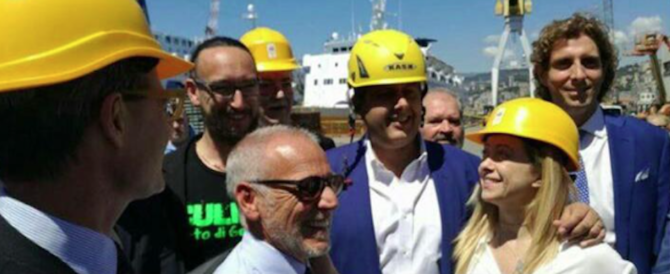 Meloni visita il porto di Genova: cade uno degli ultimi tabù della destra (video)
Ha parlato di lavoro, sostegno alle attività commerciali, difesa dei più deboli. Soprattutto ha rotto un tabù: quello che per molto tempo ha visto i leader dei partiti della destra tenersi lontani dal porto di Genova.
Leggi tutto ›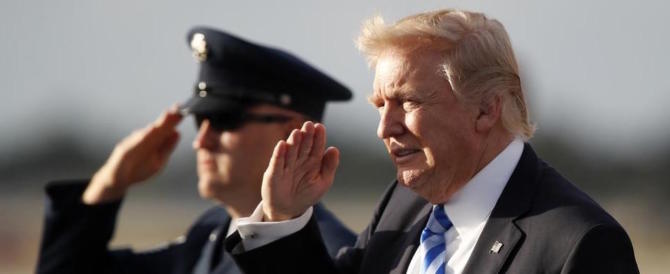 Trump: "Nessuno trattato peggio di me, ma lotterò sempre per l'America"
Tutti i numeri del voto di venerdì in Iran. Testa a testa tra Rohani e Raisi
Leggi tutto >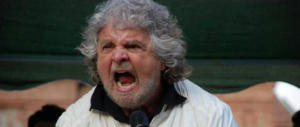 Lo "scoop" di Beppe Grillo: «A Roma non c'è un problema rifiuti, sono pettegolezzi»
Leggi tutto >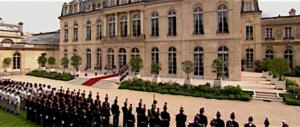 Francia, il minestrone è servito: ecco il "nuovo" governo Philippe-Macron
Leggi tutto >
GLI ARTICOLI PIU' LETTI
Putin disinnesca i furiosi attacchi dem a Tr: "Le registrazioni? Eccole"
Forni crematori, Damasco stupefatta: "Narrazione hollywoodiana…"
Il pilota di Superbike Nicky Hayden travolto mentre andava in bici. È grave
Secolo d'Italia
Registrazione Tribunale di Roma n. 16225 del 23/2/1976
​Redazione: Via della Scrofa, 39 – 00186 Roma